CMS Integration – SmartConnect
Save time and reduce the risk of errors.
SmartConnect connects your systems (CMS, DMS, PIM) with our translation platform, making it quick and easy to send, receive and publish translations directly in your system. You save time and reduce the risk of errors.
Unsere API-Lösung unterstützt alle marktüblichen CMS, darunter die Folgenden:
Unsere API-Lösung unterstützt alle marktüblichen CMS, darunter die Folgenden:
Benefits of using SmartConnect
Does your company write new or amend the content on its website on a regular basis, maybe in various languages? If so, integration can be a really good investment for you. It is a simple and user-friendly solution that will save you time and resources.


Reduce the risk of errors

Publish your text quicker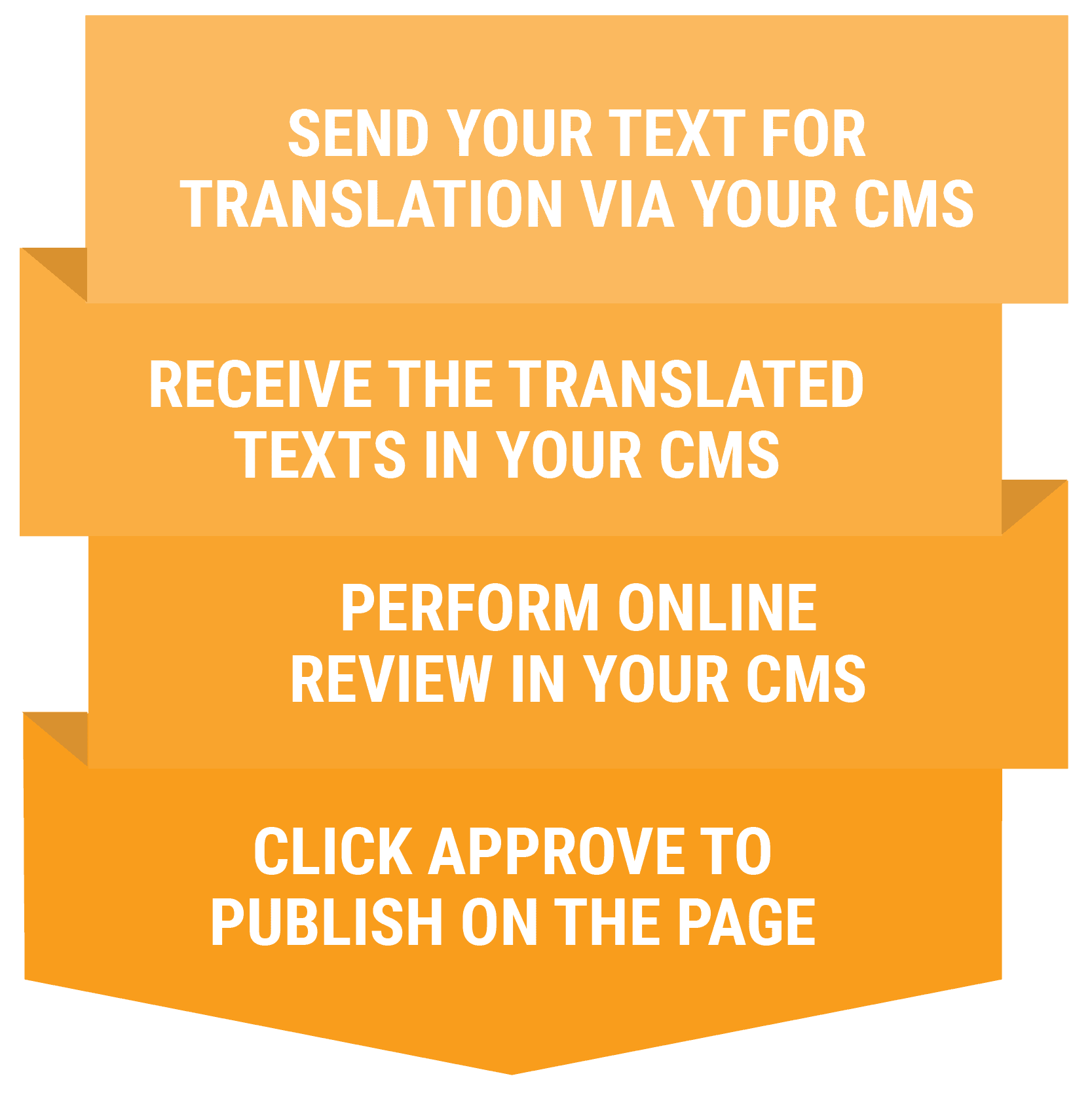 Good to know about our integrations:
FULL INTEGRATION WITH YOUR CMS
AdHoc Translations offers a smart API solution that fully integrates with your CMS. For example, you can order website texts to be translated with a single mouse click, without having to copy-paste or move a lot of XML files back and forth. Once a translation has been completed, you can approve it directly in the system. It's simple, fast and efficient.
Our API solution supports all of the major CMS solutions on the market, including the following:

AUTOMATICALLY EXPORT AND IMPORT FILES
The API integration allows source texts to be exported and translations to be imported automatically to and from your CMS. This means that you no longer have to copy texts to and from your CMS, send e-mails or keep track of different versions. Instead, all you have to focus on is writing content and developing your website.
This allows you to roll out your content much faster than before.
EASIER PROOFREADING PROCESS
In the same way that you submit your texts for translation directly via your CMS, you will also get the translated texts back directly via your CMS, where you can also proofread the translations. It is a simple and smooth process which saves you a lot of time and effort.
Once you have approved the translation and made your corrections (if any), the text is ready to be published directly from your CMS to your website. No more time-consuming and tedious copy-pasting that increases the risk of making mistakes and makes it a far lengthier process.
INTEGRATION WITH TRANSLATION TOOLS
The solution ensures full integration with our cloud-based translation tools. This means that when you are proofreading a text, your changes automatically update the
translation memory
, so that the same mistake never has to be corrected more than once.
CUSTOMISED SOLUTION
At AdHoc Translations, we tailor our solutions to our customers' individual needs. Your project manager at AdHoc Translations will help you identify the solution that works best for you.
Contact us today for an informal chat about how we can turn the translation of your website texts into a breeze.
EASY AND USER-FRIENDLY SETUP
Integrating our API solution with your CMS is a simple and quick process that requires minimal effort on your part. The setup does not require any special IT expertise or resources. The API works with all open-source solutions.
Following the quick setup process, you get access to the intuitive and user-friendly interface that helps make your working life easier.
CONTACT US FOR A FREE AND NON-BINDING QUOTE
Our latest survey showed a 98% customer satisfaction rate. Do you want to be one of them?
Click to fill out our form. Once received, we will call or e-mail you with a quote within 8 hours.
Read how Universal Robots solved their need for
smart and efficient translation of their website content.