Sure, calling SEO the language of search engines may be a bit of an overstatement, but it's actually not that far from the truth. If you want to reach your target group with your website content, irrespective of specific markets or languages, it's important to make sure it's written in a language that search engines understand. Our aim with this blog post is to give you a basic understanding of how to make your content SEO-friendly.
What is SEO?
You can think of SEO as an umbrella term that covers a variety of measures you can implement to attract more visitors to your website. These measures can be divided into two fundamental categories: off-site and on-site. Off-site SEO includes disciplines such as link building, mentions and social media, whereas on-site SEO has to do with so-called 'technical SEO' as well as keyword optimisation of your written content.
In this blog post, we're going to focus on keyword optimisation of your website content, meaning we won't be touching on off-site SEO or technical SEO.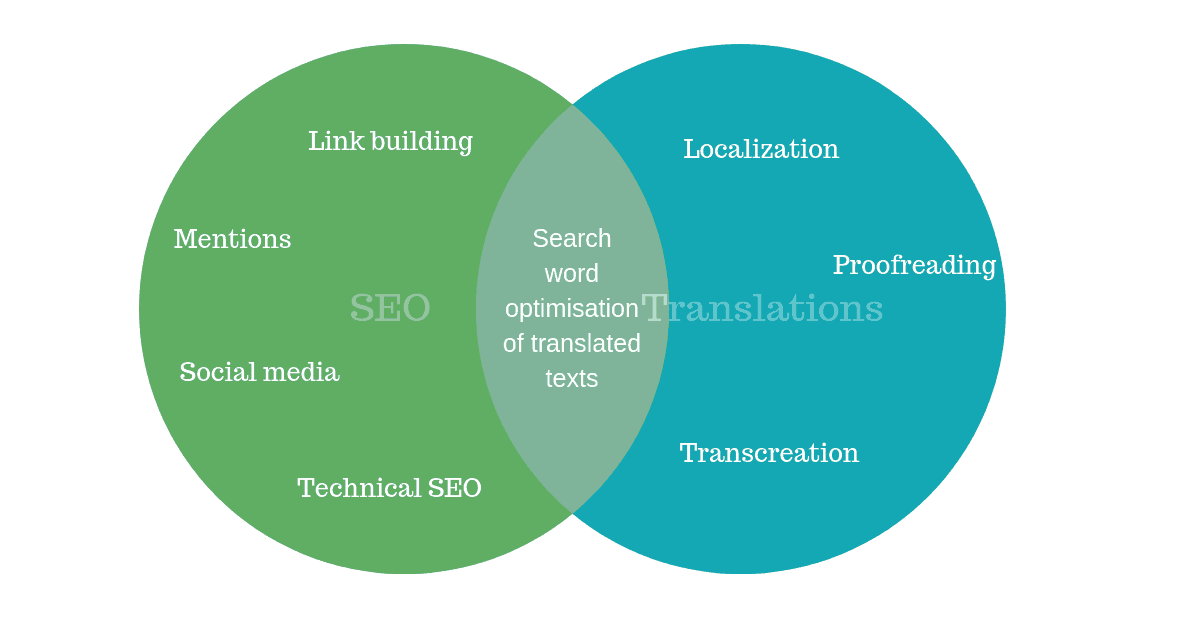 What to consider BEFORE writing SEO texts for your website
You could write SEO content for your website's product/service pages, landing page or perhaps a blog post. No matter what part of your website it's intended for, your aim is naturally to make sure that your target group finds it via search engines such as Google or Bing. Your top priority is therefore to find the most common keywords – also called "search queries" – your target group enters into search engines when looking for the service or product you offer.
There are several tools you can use to that end, such as Google Ads Keyword Planner. In order to run a detailed analysis on keywords with Google Ads Keyword Planner, however, you'll need a Google Ads account  with an ongoing campaign. If you don't, there are fortunately other tools you can use that are just as good, but it's worth noting that none of them are free.
If you're working with a SEO agency, you could ask them to carry out a keyword analysis for you as they almost certainly have access to one or several of those tools.
A keyword analysis basically entails entering your own proposed keywords into a tool based on what you believe are the keywords your target group might conceivably use when searching for your service or product. When you enter a keyword, the tool will provide you with data on the number of times that keyword was used in a search query every month as well as other keywords that match yours. It's worth bearing in mind that the tool is only a machine, however, so some of the keywords it suggests may not always be relevant to your business.
The keywords that are most frequently entered into search engines and which relate to what you're offering will typically be the best ones for you to focus on. That said, make sure you don't pick keywords that are too broad; for example, if your business sells LED light bulbs for outdoor use, it would be a bad idea to focus on the keyword "LED". Not only does a huge variety of products fall under that term, but it's also not specific enough in relation to what your business sells, which means that it won't be aimed exclusively at the people who are looking for your exact product.
What to consider WHEN writing SEO texts for your website
Once you've chosen your keyword(s), the next step is to incorporate it into your SEO text!
In the past, Google focused heavily on keyword density in SEO texts, i.e. the percentage of times a keyword appears in a website text compared to the total word count of that text. Back then, some experts recommended aiming for a keyword density of as much as 5%. Imagine how irritating it would be reading an article like that! Today, however, Google now looks at your written content as a whole, including which words you use aside from the keyword. Google's focus has drifted away from keyword density and towards something called Latent Semantic Indexing (LSI), which in addition to the keyword also focuses on synonyms and related words.
That said, a good rule of thumb is still to incorporate your chosen keyword in its exact form into around 1.5 – 2.5% of the text, but no more than that. In fact, today it's just as important to make sure that your keyword isn't used too frequently in a text, as Google might interpret that as keyword stuffing (a method people used in the past where the aim was to use the keyword as many times as possible in a single text), which can lead to a bad ranking in search engine results pages (SERPs). If your keyword's mentioned too frequently in relation to the above rule of thumb, you should try replacing it with synonyms and related search queries in sentences where it wouldn't make sense to just delete it.
What to consider when translating your finished SEO text into other languages
Once your SEO text is done and ready to be translated into languages for your other markets, it's not enough to simply translate the keywords you identified in your local language directly into other languages. After all, every language and culture is unique; it wouldn't be at all unusual if you were to discover that for people in other countries to use another keyword to search for your product or service. For instance, while it may be common to search for "LED light bulb" in English-speaking countries if you're looking for LED light bulbs, it may be more typical in France, China or somewhere else in the world to search for "diode light bulb" (in their own language, of course) to search for the very same product.
That's why it's always a good idea to carry out a keyword analysis for every language you translate your texts into.
If you follow the above tips when writing your SEO texts, you'll have a far better chance of your target group finding what you're selling via your website, regardless of language differences.