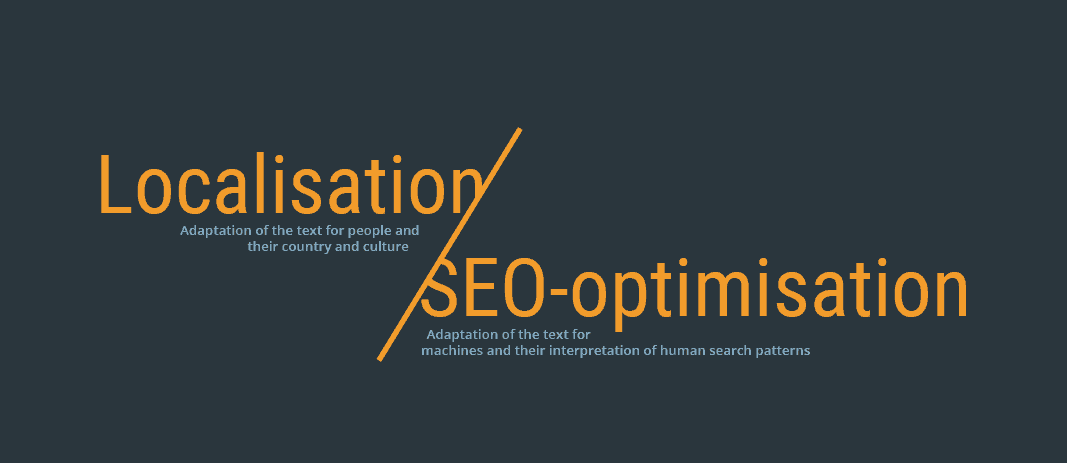 Drive success in your local markets with perfectly localised and SEO-optimised texts. But why is it important and what is the difference?
What is the difference between localising and SEO-optimising a text?
Many people tend to be confused when they decide to have a text translated for the first time and suddenly come across new technical terms used within the translation industry.
For example, when you send a website text for translation into other languages, you will typically have to consider whether your text needs to be localised and/or perhaps even SEO-optimised.
But what does it mean to localise or SEO-optimise a text and what is the difference?
Understandably, many people confuse the two concepts as they do share some similarities although their purposes differ.
Why is it important to know the difference?
As a customer, it makes sense to know the difference between localising a text and SEO-optimising a text as it enables you to order the service you actually need. Moreover, you will know what the agency is talking about when they ask what you need.
A meticulous translation agency will always ask for the purpose of your text and what you want to achieve with the text. In that connection, they will typically introduce concepts such as localisation and SEO optimisation.
The agency does so to get satisfied customers and to be able to deliver a product that meets the customers' expectations.
The following provides a brief explanation of the two concepts and of when it makes sense to ask your translation agency to localise and/or SEO-optimise your text.
What does it mean to localise a text?
Localising a text means that is adapted to the culture and country in which the text is to be used.
This means that the translator cannot make a word-by-word translation but has to consider the content critically and if necessary rephrase or use other terms, expressions and references than used in the source text.
Names and product names may have to be changed, proverbs be adapted and wording be angled differently. A marketing slogan that works well in the source language might be a disaster if translated directly.
This happened to American Airlines when their marketing slogan "fly in leather" was translated incorrectly into Spanish where it became "fly naked".
Good translators do not fall into such traps as, apart from mastering the language, they also know the culture in which the text is to be used. Therefore, good translators are also able to spot terms, expressions and situations that might not work or perhaps even be insulting in the target language.
It makes sense to have your text localised by a skilled translator because this way, the text will serve its purpose, clearly communicate the message in the target language and captivate the reader.
What does it mean to SEO-optimise a text?
When a text is SEO-optimised or Search Engine Optimised, it means that it is optimised for search engines in the country in question. The target group is not people but machines and their interpretation of human search patterns, and that requires the text to meet specific criteria.
When a text has to be SEO-optimised, the right keywords must be used and inserted in the right places in the texts. In most cases, translating the keywords directly is not enough, and this is where the similarity to localisation comes in. It is about adapting the keywords to make sure that the keywords chosen are in fact the ones used.
To find out what keywords should be used in the relevant foreign market, a keyword analysis is necessary. Such analysis may very well show that a keyword used by a Danish consumer to find a service or product in a search engine is not the same used by a Spanish consumer when translated directly. This should be taken into account in the text if your purpose of translating your website is to reach the consumers in the local market.
You can read more about SEO and keyword analyses in our blog post "How to speak the language of search engines across national boundaries".
Your translation agency can help you make a solution that includes keyword analysis and translation by a skilled SEO translator. You can read more about how AdHoc Translations can help you with SEO translation.
What to choose and when
When you have your marketing texts translated for foreign markets, the right thing to do is to make sure that they are localised so you do not end up in an embarrassing or perhaps even detrimental situation which was the case for American Airlines in the example above. It may harm your brand and prove to be very expensive in the long term.
However, you may have a perfectly localised text, but when it is a text for your website, it is equally important that it is visible in search engines if the goal is to achieve visibility in the local market.
On the other hand, SEO-optimising your text to make it visible for search engines is not enough either, because if the text does not seem reliable or appealing, the visitor will quickly leave the website again. So even if SEO optimisation generates increased traffic to the website, most companies want more customers and that requires well-localised texts.
Therefore, you should always consider what type of text it is, what you want to achieve with the text and where it is to be used when you talk to your translation agency about what kind of text you need.
Save time and money by having translation, localisation and SEO optimisation handled in one place.
Many companies choose first to send their text for translation and localisation by a professional translation agency and then contact a digital marketing agency for SEO optimisation of the text.
However, this is rarely the best solution because the more parties involved, the more expensive and time-consuming it often turns out.
If you want to save time and money, it would be wise to choose a translation agency which also offers SEO optimisation of the translated text.
AdHoc Translations offers solutions that matches your specific need. We go that extra mile to make your marketing texts perfect. We offer translation, localisation, copywriting and SEO optimisation of your texts.
In this customer case, you can read how AdHoc Translations helped TRUSTZONE create good and appealing texts for their website by involving a translator and a copywriter in the process.
Do you also want to create good marketing texts in other languages, then click here to get a quote.