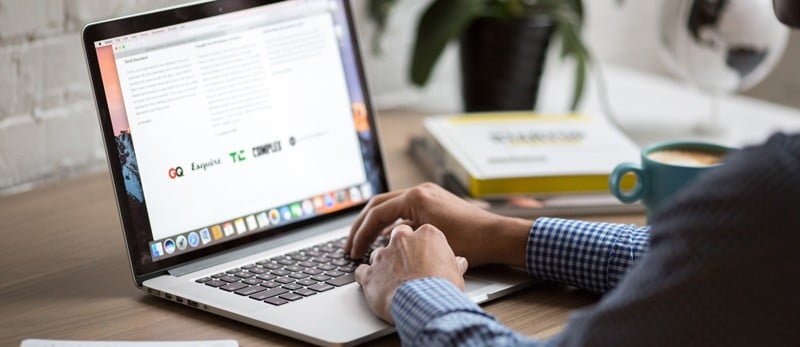 HOW TO INCREASE TRAFFIC ON YOUR WEBSITE BY TRANSLATING THE CONTENT
Have you ever done a Google search, clicked on a website, realised that it was in another language – and then immediately left the site again?
My guess is that you have. If the website is not in your mother tongue, most people will leave the site and find another one that meets their need.
However, you were directed to the site for a reason, which means that you are also part of the traffic that the website missed out on. This happens to many websites every day.
If you do not optimise your website to different languages, then you will undoubtedly miss out on tonnes of otherwise relevant traffic.
If you want to maintain and perhaps even increase traffic on your website, you should consider translating the content of the website into the languages of your markets.
HOW TO FIND OUT WHERE TRAFFIC TO YOUR WEBSITE COMES FROM
The first step when you consider translating the content of your website into different languages is to find out where the traffic comes from. You can do so in Google Analytics.
Go to the 'Acquisition' report
Select the 'Channels' report under 'All Traffic' to see direct traffic, organic traffic, paid traffic, referral traffic, etc.
Select 'Secondary Dimension' above the grouping to go deeper into the traffic sources. Search for 'Country' and select from the dropdown menu.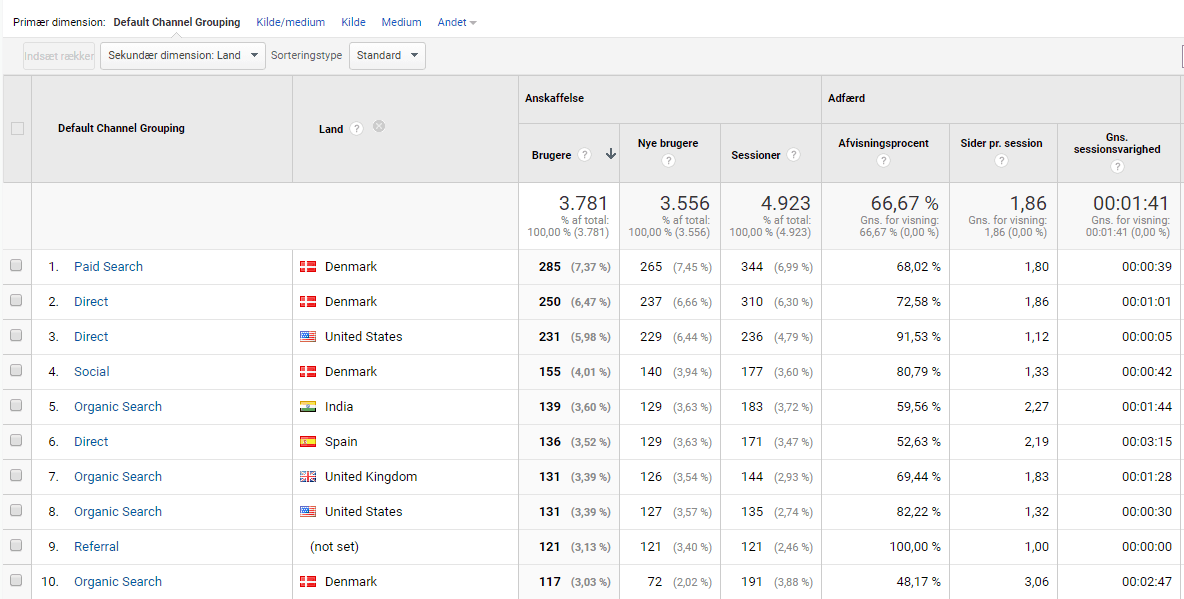 The report shows the sources most of your traffic comes from. If you see that organic search generates a lot of traffic from a specific country, you should consider having your website translated into the language of that country if that is not already the case.
WHAT CONTENT IS INTERESTING FOR DIFFERENT COUNTRIES?
If you decide to translate your website into another language, you can take the next step and look into what blog posts and other content are the most interesting for those countries in which the language is spoken. With that information, you can prepare a content strategy to optimise the traffic to your website even further and ensure that your target group is interested in your content.
To find out what content or landing pages have the best results, you need to go back to Google Analytics:
Select the 'Behavior' Report under 'Site Content' and select 'All Pages'.
Select the 'Secondary Dimension' tab and click 'Country' again to see which countries generate traffic.
This gives you an indication of what pages on your website are popular for the country in question.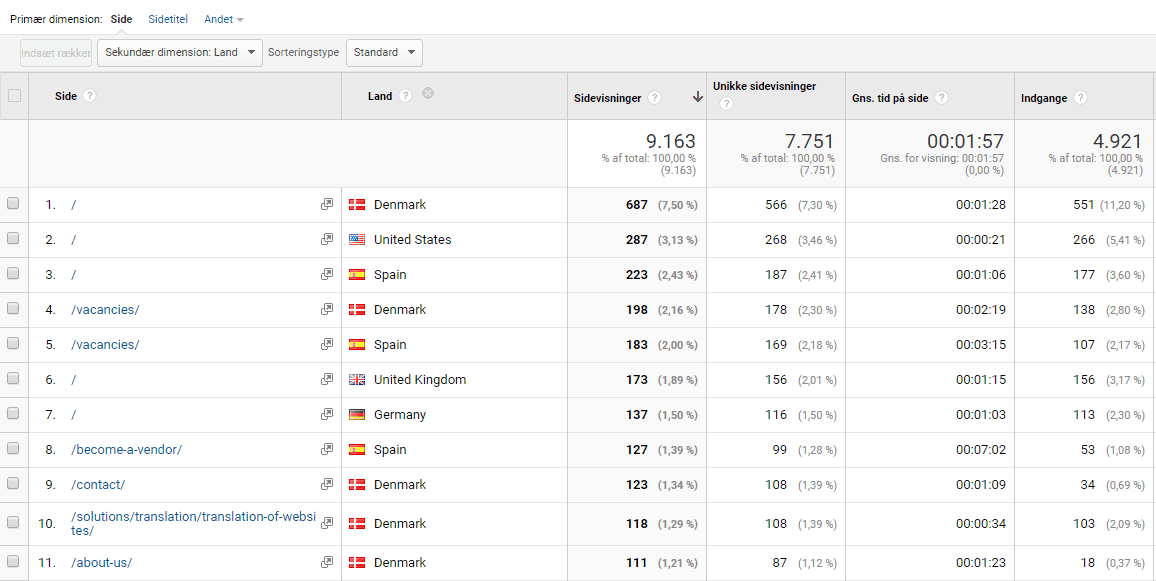 However, you need to remember that this is not an infallible method for finding the language you should focus on. The country of traffic origin does not always have to do with the language spoken. For example, a person who lives in the US and speaks fluent Spanish might prefer to use Spanish rather than English. Or a person from Canada might prefer reading French rather than English.
Therefore, it might be a good idea to use 'Language' as the Secondary Dimension instead of 'Country' for the report: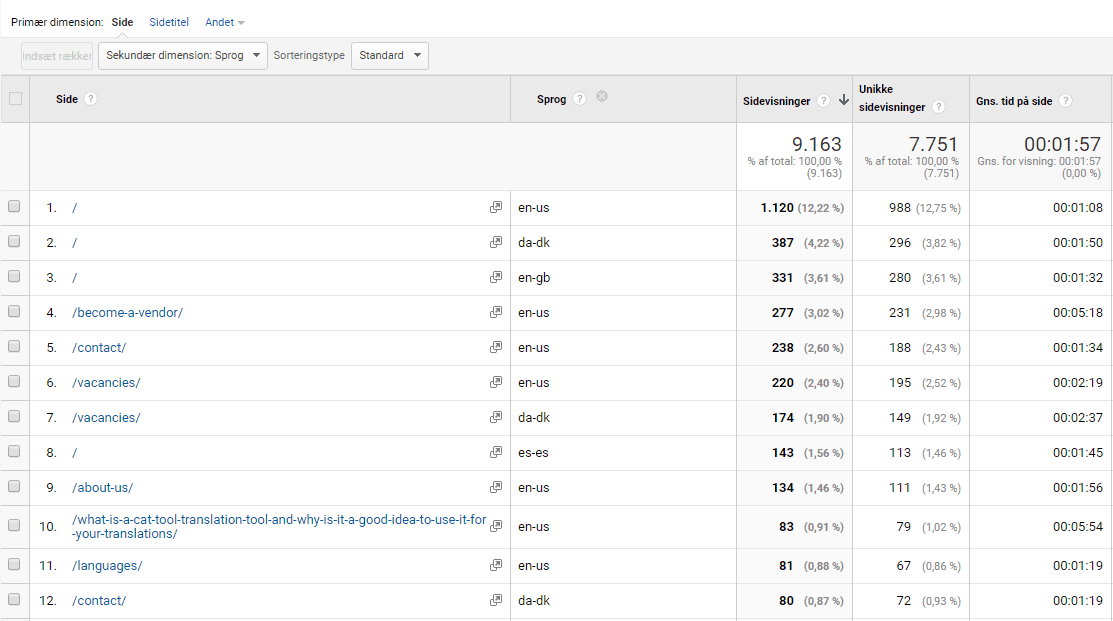 HOW TO TRANSLATE YOUR CONTENT
We do not recommend that you use Google Translate or similar free tools to translate your website. This will only result in a faulty translation. When you translate your website, it is important that you provide quality translation of your content, which appeals to the visitors,to prevent them from leaving again.
It is a good idea to contact a professional language service provider which can help you choose the best way to translate your content.
When you decide to translate your website content, it might also be a good idea to find a plugin that exports the texts and then re-imports them once they have been translated. If you use WordPress, you can find tips for choosing the best plugin in this article: https://winningwp.com/best-multilingual-translation-plugins-for-wordpress/
If you make regular changes to your website and often add new content to be translated, the best solution would be to choose  SmartConnect which is an API integration with your CMS system.
This allows you to send your content for translation with a single mouse click without having to copy/paste – or move XML files back and forth. Once a translation has been completed, you can approve it directly in the system and it will automatically be integrated on your website.
You may have other reasons to translate your website or content than to increase traffic, but regardless of the reason, there is no doubt that translating your website can help your company grow.