PROFESSIONAL INTERPRETING
WE BUILD UNDERSTANDING BETWEEN PEOPLE
Understanding is the key to all communication and a prerequisite for your company's global success. Our interpreters are ready to help you create understanding between people who speak different languages and come from different cultural backgrounds.
Nearly 30 years' experience
"We are very pleased with our cooperation with AdHoc Translations. Your professionalism in connection with quoting is highly commendable, and we appreciate the close follow-up. The work delivered is of top quality and demonstrates your excellent understanding of the content and context."
– Søren Pape Hansen, Synoptik
EXTENSIVE NETWORK OF PROFESSIONAL INTERPRETERS
We have provided interpreting solutions for our clients over 25 years, during which time we have also built up an extensive network of professional interpreters who specialise in a broad range of fields. Regardless of your industry, language and needs, we can locate the right interpreter for you.
We only work with the best interpreters who possess the proper educational qualifications and several years' experience, which is how we ensure consistently high quality.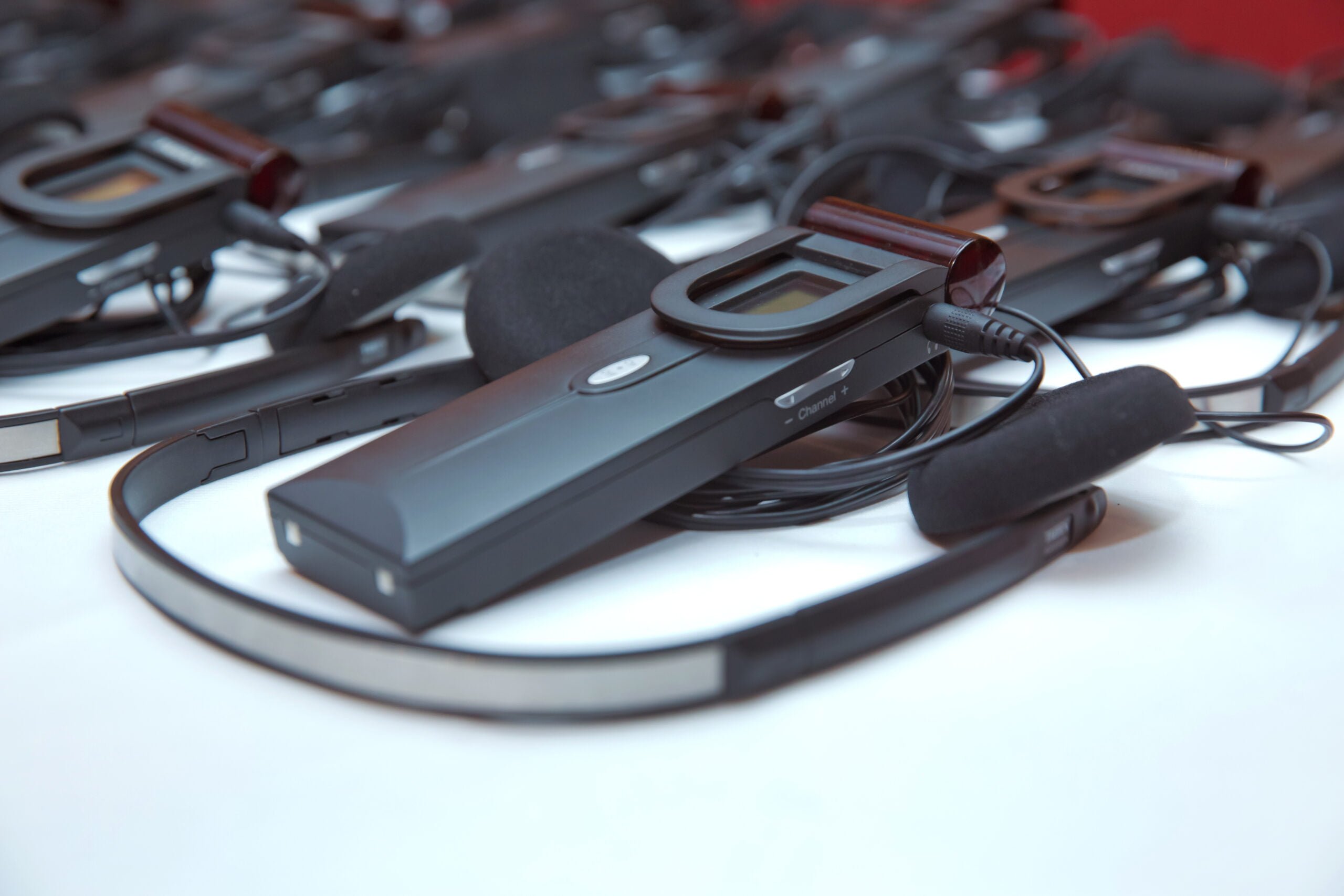 INDIVIDUAL SOLUTIONS FOR YOUR INTERPRETING NEEDS
Regardless of whether you need an interpreter for your meeting, a conference, a courtroom trial or something else entirely, we can find one that matches your needs. Simply let us know what you need the interpreter for, and we will find the right interpreter and solution for you.
FAST AND PROFESSIONAL
We ensure that communication does not become an obstacle to the success of your business. Thanks to our many years of experience and flexible network of both in-house and external interpreters, we are always ready to assist, even on short notice.
CONSECUTIVE AND SIMULTANEOUS INTERPRETING
When you choose to hire an interpreter for your meeting, conference, etc., it can either be for consecutive interpreting or simultaneous interpreting.
Consecutive interpreting used in connection with meetings is also called dialogue interpreting, as this form of interpreting is used in contexts involving dialogue between two or more people. This form of interpreting is ideal for small meetings and business visits.
The interpreter used to take notes and would then interpret a few minutes of speech after the speaker was done or held a break, however, since this type of consecutive interpreting is time consuming and not conducive to a natural meeting flow, interpreting is now done using a whisper interpreting system. The interpreter uses a headset with a microphone, and the participants listen to the interpretation via headsets. In our experience, the meeting participants quickly get used to the equipment, after which the meeting can be conducted as any meeting where only one language is spoken.
In simultaneous interpreting, the speaker's words are interpreted almost simultaneously, which is why the interpreter often works in a special booth or via some form of interpreting system. This mode of interpreting is often used in conferences and meetings with more than two participants.
TELEPHONE INTERPRETING
Why waste time booking an interpreter and money on paying for the interpreter's transport or travel time when instead, you have the option to only pay for the minutes interpreted over the phone?
We offer telephone interpreting, a unique solution that allows you to get in touch with an interpreter within as little as 30-45 seconds. We offer this solution for interpreting between English and all other languages. Contact us to learn more about this unique and flexible solution, which can save you both time and money.
FULL DISCRETION
Business meetings often touch on sensitive and confidential topics and information. All our interpreters are subject to confidentiality, meaning that you can always count on their full discretion.
Furthermore, one of the main tasks of an interpreter is to remain completely objective while interpreting.
CONTACT US FOR A FREE AND NON-BINDING QUOTE
Our latest survey showed a 98% customer satisfaction rate. Do you want to be one of them?
Click to fill out our form. Once received, we will call or e-mail you with a quote within 8 hours.